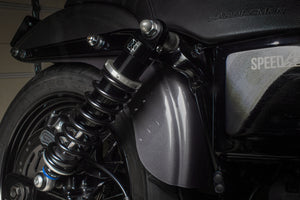 BIOGRAPHY
It's been said that ordinary people can do extraordinary things when they apply their God given talents. Jeff Ryan is an ordinary guy, who today is recognized as one of the most legendary shock innovators in the world. But he didn't travel a traditional path. His knowledge for shocks wasn't learned in a college classroom or out of text book. His life of suspension started out simply as a kid with a love for motocross and a mind for machines. His path through motorsports has been journey around the world, where he worked with legendary racers, such as Dale Earnhardt, Nigel Mansell, Rick Mears, Richard Petty, Alain Prost, Michael Schumacher and Rusty Wallace, while quietly becoming a shock building legend himself. Jeff Ryan's pioneering technologies have supported championship teams from Formula 1 in Europe to the depths of Baja in off-road racing to stock car racing's highest levels of NASCAR.
A CALIFORNIA KID WITH RACING DREAMS…
It was 1979 and Jeff Ryan was a young high school senior from Campbell, California just outside of San Jose. He lived for riding dirt bikes and motocross racing. While most of his classmates were looking to move onto college and develop defined career paths, Jeff Ryan was going to work as a general assembler for legendary shock innovator, Bob Fox. Ryan was one of the first 10 employees at Fox Shocks, in a time when suspension technology was just taking to the track. "It was an exciting time. Many new things were happening in racing suspension and I was just a young kid taking it all in. I loved motocross and I loved building things, so for me working at FOX was a dream job. Although I'm not sure my Dad at the time agreed with my choice." It was at Fox Shocks that Jeff Ryan became a skilled self-taught machinist, set a foundation for shock design, gained a general understanding of the racing industry, and built relationships through customer service and sales for Fox.
OPEN WHEEL…OPENS JEFF'S WORLD…
At age 25 Jeff Ryan was already getting noticed. He was recruited to the Indy Car Team, 'Galles Racing'. Jeff was hired as a machinist, as there was no such thing as a 'shock specialist' at that time. During the day he would machine parts for the team and during the late hours of the night Ryan would work on shocks. He watched and learned from the many engineers that came through Galles Racing. He also spent nearly every weekend at the race track absorbing the communications of drivers, crew chiefs and lead engineers. In the calm stillness of the late nights at the race shop, Jeff began to put all the components of his knowledge of various shock technologies and what he'd learned from the racetrack into his own shock innovations. His niche in life was beginning to shine as the shocks he built performed. JRi Shocks was founded in 2007 by Jeff Ryan and the technology that he created early in his career is still used today.
5 Formula One World Champions

9 US Open Wheel Championships

7 Indianapolis 500 Victories

10 NASCAR Cup Series Championships

Multi Sports Car Champions

Multi Superbike Championships

Multi Daytona 500 Victories

Multi NHRA Pro Stock Championships

AMA Supercross Podium Finish
General Manager
Jeff Ryan
"I lived and breathed racing it was seven days a week and often almost 24 hours a day. But I learned so much in that time working with some of the best engineers and minds in racing."